News
Treatment cascades show 90-90-90 goal within reach for some – but Eastern Europe lags behind Africa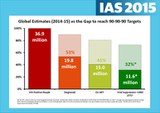 aidsmap.com, 23 July 2015 - "Global analysis of HIV treatment cascades – the proportions of people diagnosed with HIV, in care, on treatment and virally suppressed – shows that some of the world's richest countries are still far short of achieving the UNAIDS 90-90-90 target. Progress is worst in Eastern Europe.
The findings were presented by Jacob Levi at the Eighth International AIDS Society Conference on HIV Pathogenesis, Treatment and Prevention (IAS 2015) in Vancouver – described by numerous speakers this week as the '90-90-90' conference.
The 90-90-90 target set by UNAIDS aims to diagnose 90% of all people with HIV, provide antiretroviral therapy for 90% of those diagnosed, and achieve undetectable HIV RNA for 90% of those on treatment, by 2020. This ambitious target translates into undetectable viral load in 73% of all people living with HIV.
How far are countries from achieving these targets? In some cases fairly close, but in others, the gap is enormous."
Read more...