News
Towards a people-centered approach to the world drug problem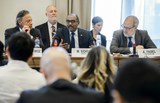 UNAIDS - "Ahead of the United Nations General Assembly Special Session (UNGASS) on the World Drug Problem that will take place in New York in April 2016, senior representatives of several United Nations agencies have taken part in a high-level multi-stakeholder perspective in Geneva, Switzerland.
The aim of the event was to explore ways to transform the current drug control system into a measurable response that is people-centered and grounded in respect for public health concerns and human rights. (...)
Introducing the panel, Switzerland's Ambassador to the United Nations in Geneva said that stakeholders had already demonstrated their engagement to explore the global drugs issue through the lens of human rights and public health.
"We want to continue to build on this momentum by reiterating our commitment for drugs policies that are people centered and by underscoring the powerful nexus between human rights and public health," said Ambassador Alexandre Fasel."