News
Time for Action: Shifting the paradigm towards integrated, people-centred health systems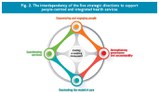 International Health Policies, 6 August 2015 - The scientist Angeli Rawat adovated at the recent International AIDS Society conference in Vancouver to believe in a paradigm shift from disease specific/fragmented health programs towards integrated, patient-centred health systems, regardless of the plenty of disease-specific fundings.
"We should not accept that shifting a paradigm towards patient-centred, integrated health systems is impossible." As summarised in the recent report by the World Health Organisation "WHO global strategy on people-centred and integrated health services" it is the aim to "empowering patients, families and communities to become more involved in health care decision making questions the existing medicalised model of health systems".
Rawat remembered that similarily a few years ago no one believed in what has now become a reality that 15 million HIV/AIDS patients are on treatment.