News
Sustaining the human rights response to HIV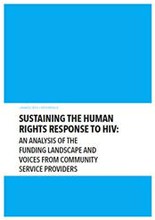 UNAIDS - The human rights response to HIV, largely implemented by civil society, has been crucial to the HIV response, but it appears that the funding for this work is insufficient and may be threatened further.
Based on these concerns—and with the support of the Ford Foundation—UNAIDS commissioned research to better understand the current and future funding landscape as experienced by the civil society groups that are implementing key human rights programmes in the HIV response. This paper presents the results of this research and makes recommendations in an effort to ensure sufficient and sustainable funding for that crucial work until the end of the AIDS epidemic."
(...) Despite the strongest ever policy base and increasing need for human rights work, there are indications that funding for that work is insufficient and may be decreasing. Sources indicate that little of the present annual funding for the global HIV response supports human rights programming."