News
More research on the impact of starting treatment early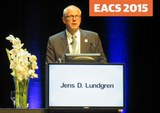 aidsmap.com - As HIV Update has previously reported, the results of a groundbreaking study which demonstrated the benefits of starting HIV treatment early were released in the summer. The headline findings are clear and have already led to changes in treatment guidelines. All international guidelines now recommend that treatment is started as soon as people are diagnosed with HIV.
However, researchers continue to examine the data from the study and to better understand what they can tell us about how HIV causes disease.
Professor Jens Lundgren, who led the study, recently said that the results showed that we can't rely solely on the CD4 count to tell us about damage to the immune system. Although people who delayed HIV treatment often had a CD4 count above 500, they were still more likely to have serious illnesses than people who started HIV treatment immediately. It seems that damage to the immune system happens early in HIV infection and is not fully reversible, even with effective HIV treatment. (Photo: Jens Lundgren, presenting at EACS 2015 © Liz Highleyman).