News
Ebola and HIV: how to change behaviour for the long term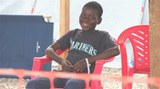 Irin news, NAIROBI, 20 March 2015 - There have been no new Ebola infections in Liberia in the past three weeks, but it's still far too early to say the virus has been defeated – Liberia's borders are porous and its neighbours have been less successful in taming their outbreaks.
For Liberia to be deemed Ebola-free, there must be no new cases over 42 consecutive days. But even with that goal achieved, the World Health Organization (WHO) is unlikely to immediately declare the crisis over, said WHO spokesperson Margaret Harris. (...)
But when the day does come and the crisis is declared over, how can prevention lessons be made to stick? Are there models to emulate from the global HIV campaign?
Read more...